With the move to 15-minute products in the balancing energy market (RAM), the number of tradable products will increase from 6 to 96 product time slices.
Automation becomes a MUST
Knowing exactly the retrieval probability will be THE challenge in RAM at PICASSO & MARI to generate optimal revenues.
With PICASSO & MARI, the support of the balancing energy market becomes extremely time-consuming.
FlexPowerHub automatically calculates bids based on individual & latest parameters.
Demand for flexibility will grow in the coming years for both power generators and power consumers
The energy transition is the largest EU-wide IT project of all time: The digital transformation of the energy industry is an integral part of the energy transition.
We've already done this FOR YOU & will handle future changes as YOUR service partner.
Digitization of your bidding process

in the balancing energy market
Digitize your existing bid processes with FlexPowerHub. As a participant in the balancing energy market, you are facing some profound changes with the future market design – therefore benefit from our full-service solution.
Automated bidding with

the bid manager
Manual bid submission via CSV upload, email, fax & phone is time consuming and error prone. Our Bid Manager sends your bids via the interfaces to the respective transmission system operator and you receive the return results back into the system. This will save you valuable time.
In our Bid Manager, you can validate and release your created bids on a daily basis using the 4-eyes principle. It is also possible to create individual workflows and automate the entire auction process.
Trigger the bid calculation in the bid generator ad-hoc, check all automatically calculated bids and trigger the transmission of the bids to the TSOs manually.
Create a work-flow and have bids calculated automatically at the desired time, but check them manually (e.g. 4-eyes principle) and trigger the transmission to the TSO with a click.
In this case, there is nothing more to be done manually. In the background, everything happens completely automatically. The interfaces are called (schedule, marginal price & forecast updated) and the bids are transmitted to the TSO at the desired time.
Revenue optimized bid calculation

with our Bid Generator
With the Bid Generator we provide you with a powerful tool to calculate your strategies in an optimized way. Create unique and individual strategies for your assets, or map the entire capacity in one strategy. Customized & matching bids are automatically generated for you. In addition, scheduled reports can be created and sent directly by e-mail.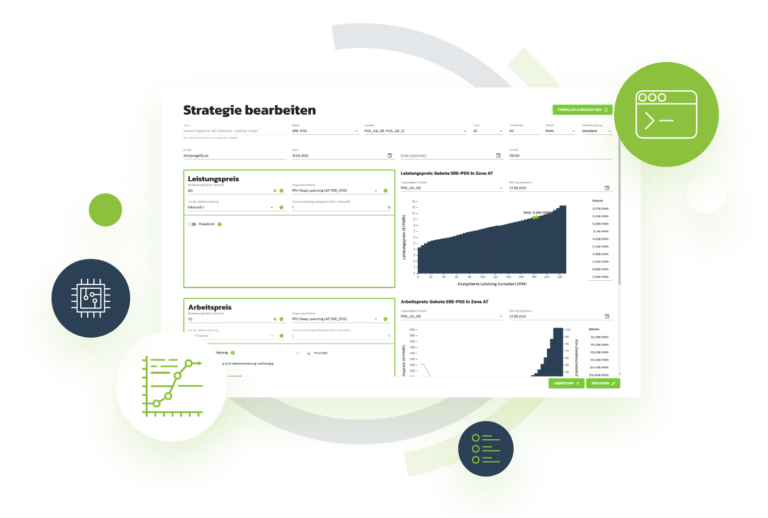 With our backtesting, invested strategies can be evaluated up to one month back. This allows different strategies to be compared against each other.
Individual parameterization
Bids are calculated based on your individual parameters. Determine their own risk percentile or marginal cost of the asset in question.
Deposit individual free bid strategies for the energy power market. You can readjust and release these until just before the TSOs close.
Months of implementation time?

Not with FlexPowerHub
Our web-based application can be integrated into your system very quickly – 3-5 person days depending on the size of the modules. No interfaces need to be "implemented" for pure bid calculation with our forecasts. We use REST API interfaces to connect to your leading management system. Our phase plan allows the connection to be carried out using technical documentation.
Start fully automated as a participant in the balancing energy market. With our Data-Service you have the possibility to import your own price time series, forecasts and own schedules. For the bid calculation FlexPowerHub can thereby automatically collect the volume & marginal costs. This eliminates the need for manual delivery of bids.
A dedicated interface to your transmission system operators? – With FlexPowerHub you can place bids through our interface. All results of the auctions – the awarding – are reported back to your system.
FlexPowerHub as a strategic partner for

future market design changes
With special regard to the new market design PICASSO & MARI, we map all modalities in FlexPowerHub. Future changes will be adopted by us. FlexPowerHub is constantly being further developed. Relieve internal IT and save valuable time & costs.
More about PICASSO & MARI
Put your bids closer to the optimum with

our DeepLearning forecasts
We offer a broad portfolio of forecasts for the balancing energy markets in Austria & Germany. More countries will be added in 2022 – with an eye on PICASSO & MARI's roadmaps.
We offer a wide range of static and dynamic forecasts for the balancing power markets. To achieve this, the focus is on 3 target variables: energy price, capacity price and retrieval rate.
| Forecasts | Info | Variant |
| --- | --- | --- |
| MOST_RECENT | Previous day's or latest available ACTUAL value | - |
| MOVING_AVERAGE | Historical mean value of the last X days | 30 days |
| MEDIAN_DELTA | Starting from a stationary time series ("mean reverting"), the median trend of the last X days is calculated and vice versa. | 3 - 5 days |
| FPH_DEEPLEARNING | dynamic DeepLearning Prognose for SRL & TRL | 1 - 2 days |
Book a meeting

Product presentation